Archive for the 'Limited Government' Category
NSA SURVEILLANCE: AMASH, CONYERS INTRODUCE MAJOR BILL 

BIPARTISAN COALITION OF 34 MEMBERS OF CONGRESS PROPOSE LIBERT-E ACT
Washington, D.C. – Rep. Justin Amash (R-MI), Chairman of the House Liberty Caucus, and Rep. John Conyers, Jr. (D-MI), the Ranking Member on the House Judiciary Committee, announced the introduction of bipartisan legislation to address National Security Agency (NSA) surveillance.
H.R. 2399, the Limiting Internet and Blanket Electronic Review of Telecommunications and Email Act (LIBERT-E Act), restricts the federal government's ability under the Patriot Act to collect information on Americans who are not connected to an ongoing investigation. The bill also requires that secret Foreign Intelligence Surveillance Act (FISA) court opinions be made available to Congress and summaries of the opinions be made available to the public.
A coalition of 32 Members of Congress joined Conyers and Amash in introducing the bill late Monday. After introduction, Conyers and Amash issued the following statement:
"The recent NSA leaks indicate that the federal government collects phone records and intercepts electronic communications on a scale previously unknown to most Americans.
"The LIBERT-E Act imposes reasonable limits on the federal government's surveillance. The bill puts some teeth into the FISA court's determination of whether records the government wants are actually relevant to an investigation. It also makes sure that innocent Americans' information isn't needlessly swept up into a government database. LIBERT-E prohibits the type of government dragnet that the leaked Verizon order revealed.
"We accept that free countries must engage in secret operations from time to time to protect their citizens. Free countries must not, however, operate under secret laws. Secret court opinions obscure the law. They prevent public debate on critical policy issues and they stop Congress from fulfilling its duty to enact sound laws and fix broken ones.
"LIBERT-E lets every congressman have access to FISA court opinions so that Congress can have a more informed debate about security and privacy. And the bill requires that unclassified summaries of the opinions be available to the public so that Americans can judge for themselves the merit of their government's actions.
"We are proud to lead a broad, bipartisan coalition that's working to protect privacy. It shouldn't matter whether you're a Democrat or a Republican. Defending the Constitution and protecting Americans' rights should be an effort we all can support."
A list of cosponsors of H.R. 2399 is available here.
Paul O'Neill was fired as treasury secretary by Vice President Dick Cheney. Deficits, O'Neill argued, are a stepping stone to debt. "Reagan proved deficits don't matter," came Cheney's legendary reply. 
 "Deficits Do Matter"
by Paul O'Neill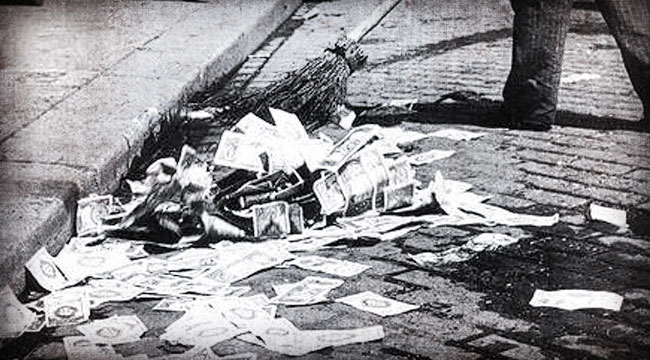 Sometime after the election — it must have been mid-November — there was a meeting of the Economic Policy Group, including the vice president. As we sat at the table in the Roosevelt Room, we talked about where we were and where we were going. If I remember right, Glenn Hubbard made a presentation that was displayed on the screen at the front of the Roosevelt Room and showed where we were going and what different tracks looked like and GDP growth and the rest, including the effects of the proposed third tax cut.  I made the argument, which I had been making over and over again since maybe June or July, that it was not advisable to have another tax cut because of the need to fix Social Security and Medicare and to have some money to smooth the fundamental redesign of the tax system.
We needed to have in effect rainy-day money in the event that we had another Sept. 11 event — and at that point, it looked like maybe we were going to go to Iraq, and it was not going to be cheap to do that. So I argued that we should not have another tax cut, because the economy was going to be in positive territory and doing OK through the next couple of years anyway, and there were all these other compelling reasons not to risk a deficit and not to risk adding more to the national debt. And the vice president basically said, "When Ronald Reagan was here, he proved that deficits don't really matter, so it's not a consideration or a good reason not to have an additional tax cut."
I was honestly stunned by the idea that anyone believed that Ronald Reagan proved in any fashion — certainly not in conclusive fashion — that deficits don't matter. I think it is true on a temporary basis that a nation can have a deficit and have a good reason for having a deficit. I think during the Second World War there was no way we could avoid having a deficit. But when we came out of the Second World War we started running budget surpluses again and did that through the '50s and into 1960. It's interesting; it's really only been in the last 40 years or so that we've accepted the notion that it's a bipartisan thing that we don't have to have fiscal discipline.  A year ago, there was this signing ceremony in the Rose Garden for the new Medicare prescription drug entitlement, and it's going to cost us trillions of dollars. This event was not unlike any of the others in the Rose Garden, on a nice sunny day, with the president sitting at the signing table with a bunch of grinning legislators behind him taking credit for this "great gift" they're giving the American people. But none of their money was going to get given to make this happen, because the federal government doesn't have any money that it doesn't first take away from the taxpayers There was no mention of the fact that this, in effect, was a new tax on the American people, and we didn't know how we were going to pay for it. It was only grinning presidents and legislators taking the credit for a gift, which strikes me as a ridiculous continuing characteristic of how we do political business in our country.

Photo ticketing bills presented in the Legislature
Michigan lawmakers have introduced bills that would legalize unmanned red light cameras in the state.
The bills, House Bill 4763 and 4762, were introduced May 22 by Reps. Wayne Schmidt, R-Traverse City, and Thomas Stallworth III, D-Detroit. The bills define running a red light that's caught on camera as a civil offense. That differs from a 2007 opinion from then-Attorney General Mike Cox, who said Michigan law recognizes red light running as a criminal violation, and the law was not authorized for photo ticketing. 
On Tuesday, the House Transportation Committee heard testimony on the matter. A representative from a safety group supported by a company that sells red light cameras, American Traffic Solutions, spoke in favor of the bills. Five people spoke against the bills. 
Jim Walker of the National Motorists Association, said his organization has a number of studies on its website showing red light cameras cause more harm than good. The bills are expected to reach the full House before summer recess.
To see video of the hearing, click below:

HOLD ON TO YOUR WALLETS: FARM BILL INCOMING!
Mark up week for the 
$1 trillion food stamp and farm bill
 has finally arrived and with it the
ominous prospect
 of self-styled conservatives and Republicans rubberstamping President Obama's 
big-government agenda
. Both the 
House
 and 
Senate
 Agriculture Committees 
released the draft text
 of their 
respective bills
 last week and the contempt for the American taxpayer could not be more evident.The bills look remarkably similar to last year's legislation: chock full of 
special interest handouts
, market-distorting subsidies, 
taxpayer-funded shallow loss crop insurance
, and of course 
hundreds of billions of dollars in food stamps
. Whether it's the 
consumer-crushing sugar program
 or a 
dairy program with a Soviet-style flare
, the farm bill is an American taxpayer's worst nightmare.The Chairman of the House Agriculture Committee, Rep. Frank Lucas (R-OK), is already putting on his best "don't look behind the curtain" routine when it comes to the 
enormity of his proposed bill
. He would have us believe that the Ag Committee 
really 
scraped the bottom of the barrel to save money this go around!
Instead of the $35 billion in "savings" from last year's proposed bill, Rep. Lucas was able to stretch things out to find $38 billion for this year's mark up. "I was compelled to match his [President Obama] number. I'm saving $38 billion from the farm bill process," Lucas said.
Indeed. The problem of course is that this bill doesn't save much of anything considering the cost is some 60% higher than the original estimate for the 2008 farm bill. And there's also that slight little hiccup courtesy of CBO showing the $35 billion in "savings" from last year's proposed bill was actually more like $26 billion.
Nothing to see here, folks, move along!
As Heritage's Diane Katz repeatedly pointed out last year, finding savings and making reforms in America's agriculture policy should be low-hanging fruit for lawmakers. The farm subsidies being financed by taxpayers are Depression-era relics that can no longer be justified. This is especially true considering net farm income has hit record highs for the past couple of years. Furthermore, this was in spite of the severe drought that swept across the heartland last year—a drought largely recognized as one of the worst ones in a century.
As the Senate prepares to mark up its bill tomorrow and the House moves to do so on Wednesday, it's imperative that Americans use this legislation as a litmus test for their representatives. Are Members of Congress serious about cutting spending and changing business as usual in Washington?
We'll find out soon. We've seen this movie before and it doesn't end well for either our freedom or our wallets, which is why we must remain ever vigilant.
GOVERNMENT RELATIONS DEPUTY
Lions And Tigers And Terrorists, Oh My!
PHOTOS.COM
The debate over what actions actually constitute "terrorism," I believe, will become one of the defining ideological battles of our era. Terrorism is not a word often used by common people to describe aberrant behaviors or dastardly deeds; however, it isused by governments around the world to label and marginalize political enemies. That is to say, it is the government that normally decides who is a "terrorist" and who is a mere "criminal," the assertion being that one is clearly far worse than the other.
The terrorist label elicits emotional firestorms and fearful brain-quakes in the minds of the masses. It causes the ignorant and unaware to abandon principles they would normally apply to any other malicious enterprise. They begin to reason that a criminal should be afforded justice, while a terrorist should be afforded only vengeance, even though the act of branding a person a "terrorist" is often completely arbitrary. This vengeance is usually pursued by any means. Thus, the terrorist moniker becomes a rationalization for every vicious and inhuman policy of the establishment, as well as for the citizenry.
Dishonorable and foolish people claim the existence of terrorism essentially gives license for the rest of us to become criminal, willfully trampling on individuals' rights to privacy, property, free speech, due process, civic participation, etc. Mass criminality against the individual in the name of social safety is the glue that holds together all tyrannical systems, triggering a catastrophic cycle of moral relativism that eventually bleeds a culture dry.
Historically, the expanded use of the terrorist label by governments tends to coincide with the rising tides of despotism. A government that quietly seeks to dominate the people will inevitably begin to treat the people as if they are the enemy. Those citizens who present the greatest philosophical or physical threat to the centralization of power are usually the first to suffer. I do not think it is unfair to say that any system of authority that suddenly claims to see terrorists under every rock and behind every tree is probably about to rain full-on fascism down upon the population.
The National Defense Authorization Act (NDAA) is the legal extension of this process, with a vaporous gray language that allows the government to interpret it in any manner it deems useful, which conveniently allows it to interpret a wide range of "offenses" as acts of war against the state.
The Department of Homeland Security's "If You See Something Say Something" campaign is the social extension of the process, by which it creates the framework for a paranoid self-censored surveillance culture.
The fusion center network is the enforcement extension designed to surround local and State police with an atmosphere of indoctrination and federalized dogma, teaching common cops to profile according to a template that is so ambiguous that literally any activity could be considered suspicious or terroristic.
All that is left for the establishment is to force the vocabulary of fear into mainstream consciousness. This means constant propaganda. This means furious hype. This means an utterly shameless barrage of false associations, misdirections and fantastical fairyland lies. This means that we have reached a point in the grand totalitarian scheme in which the American populace is about to be bombarded with an endless drone of terrorism brainwashing — not demonizing a foreign enemy, but demonizing the hypothetical extremist next door. In fact, the Boston Marathon bombing seems to have been the signal for an escalation of such rhetoric. The high-speed conditioning has already begun.
In Middlefield, Ohio, James Gilkerson, an unemployed man taking care of his elderly mother, was pulled over during a routine traffic stop only to exit his vehicle firing an AK-47 at police officers. The action was obviously unprovoked; the police responded with deadly force, and rightly so. I would have done the same. Gilkerson's attack was crazy, yes. Criminal? Yes. But Middlefield Police Chief Arnold Stanko's remarks to the press bring a whole other dark side to this already tragic event. Stanko stated that: "He got out of the vehicle, intending to kill my officers. We don't know why he did it… He was a scumbag and a terrorist, and he's dead."
Stanko doesn't know why Gilkerson fired at police, but he is certain that the man was a "terrorist." What if Gilkerson was depressed or overmedicated or he just snapped that day? Terrorism denotes certain premeditation and planning. This attack was clearly not part of a malicious scheme, yet the label of "terrorist" is being thrown around nonchalantly, almost as if law enforcement has been trained to use such rhetoric whenever it suits them.
In Montevideo, Minn., the FBI recently raided the home of Buford Rogers, who was convicted of felony burglary in 2011. Authorities had received reports that Buford was in possession of a firearm, which is illegal for convicted felons. The raid did indeed produce firearms, as well as items the FBI dubbed "explosive devices." They did not specify what these "explosive devices" were or if they actually posed a significant threat to anyone. After the bust, headlines read "FBI Thwarts Terror Attack."
Again, there is absolutely no indication here of a planned attack. There's no indication that Rogers had any intent to hurt anyone or even any ideological motivations to hurt anyone. Yet the terrorism label is used again to describe a routine criminal arrest.